SC19
November 17 – 22, 2019 (All Day)
---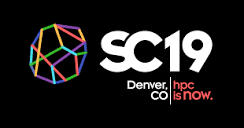 The Globus Experience at Supercomputing 2019
---
Visit Globus in Booth #681
At SC19 we're inviting everyone – our subscribers, users, partners, and those new to Globus – to get experienced with the Globus service and team:
Experience Globus for research data management

Ask for an intro demo or hands-on walkthrough
Take the "Are You Experienced" challenge and get a sticker
Ask about a NEW connector being announced soon! (watch this space)

Engage with our team

​Talk to our experts about your research data management requirements
Engage in a whiteboard session to map out a solution
Schedule a meeting in advance (submit request here or talk to your Globus contact)

Get materials and info

Pick up a fact sheet about subscription benefits
Already a subscriber? Get our appreciation sticker!
Get details on recent additions like the Box connector and HIPAA support
Attend a Globus Presentation
Don't miss our experts presenting and demoing in these sessions:
Globus Demo

Speaker: Rachana Ananthakrishnan
Location: Google booth #1363
Time: Tuesday 11/18 @ 4:30–5:30 p.m.

Globus Demo

Speaker: Vas Vasiliadis
Location: Google booth #1363
Time: Wednesday 11/19 @ 2:30–3:30 p.m.
---
See you in Denver!
---