Webinar: Q&A on Globus Subscription Features
February 6, 2019 at 11:00 AM CST
---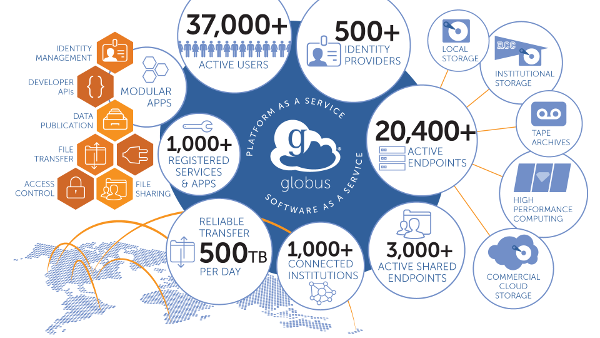 In this live Q&A webinar, Globus Chief Customer Officer Vas Vasiliadis provided a detailed look at the features included in a Globus subscription.
This webinar took place on Feb. 6, 2019. View the slides here - or watch the full webinar recording here.
Webinar attendees will:
Get details on all features included in a Globus subscription - what they are, and what they mean for organizations
Hear practical examples of how organizations like yours are using these features to solve problems and simplify life for their researchers
Have the chance to ask questions about Globus subscriptions and specific features
Learn about pricing tiers for Globus subscriptions and add-ons like cloud connectors and HIPAA support
Research organizations should not miss this chance to get the full picture of what Globus offers beyond mere file transfer.
You should attend if:
Your organization already uses Globus for file transfer
You need a research data management solution and have been thinking of trying Globus
You subscribe to Globus but aren't sure you know about all the features available
To register, click here: https://www.eventbrite.com/e/webinar-globus-subscription-features-qa-tickets-51565515846
---