Workshop on Maximizing the Scientific Return of NASA Data
October 30 – 31, 2018 (All Day)
---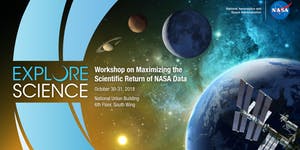 Globus co-founder Ian Foster presented in the "State of Research - Art of the Possible" track for this workshop which takes place in Washington, D.C. Dr. Foster is the Director of Argonne's Data Science and Learning Division, Argonne Senior Scientist and Distinguished Fellow and the Arthur Holly Compton Distinguished Service Professor of Computer Science at the University of Chicago. The theme for the session Dr. Foster presented in was "Perspectives on enabling researchers at institutions, universities, etc. to make new discoveries - what we can do to enable groundbreaking science."
See below to access the slides and read details from the session:
Title: Research Automation for Data-Driven Discovery (click to view slides)
Date: Tuesday, Oct. 30, 2018
Time: Session is 1:00-2:45 p.m.; Dr. Foster's talk will be given during this session
---
NASA's Science Mission Directorate (SMD) seeks to develop a new Strategic Plan for Scientific Data and Computing to guide the evolution of the array of data and computing systems supporting research across the four science areas within SMD over the next five years. To inform this work, SMD is hosting this Workshop on Maximizing the Scientific Return of NASA Data on October 30th and 31st in Washington, D.C. The workshop will bring together thought leaders from academia, industry, and government to gather community input on a new, whole-of-SMD approach that leverages advances in information technology to enable groundbreaking scientific research.
For details, visit the event site.
---